"Modest people, playing gorgeous music, speaking articulately about areas they love. Fabulously calming" – one listener's description of this multi-award-winning podcast in which Matthew Bannister goes walking with top folk musicians in the landscapes that have inspired them. "A restorative breathing space in sound" – The Telegraph. "Immaculately produced" – The Times
Episodes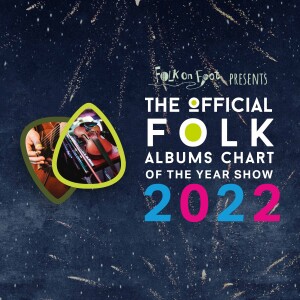 Tuesday Jan 24, 2023
Tuesday Jan 24, 2023
2022 was a great year for folk albums and Matthew Bannister will be celebrating them when he presents The Official Folk Albums Chart of the Year Show 2022. He'll count down the top 40 best-selling folk albums of 2022 and we'll hear from many of the artists who made them, including Rachel Newton, Karine Polwart, Eliza Carthy, Seth Lakeman, Robert Macfarlane and Julie Fowlis, Kate Rusby, Becky Unthank and Bernard Butler.
---
Delve deeper into the Folk on Foot world and keep us on the road by becoming a Patron—sign up at patreon.com/folkonfoot.
You can choose your level and get great rewards, ranging from a stylish Folk on Foot badge to access to our amazing and ever expanding Folk on Foot on Film video archive of more than 150 unique performances filmed on our travels.
Sign up for our newsletter at www.folkonfoot.com
Follow us on Twitter/Facebook/Instagram: @folkonfoot